Never drink soft drink while in flight
Food during travel is very critical and we should be very careful of what we consume during long distance flights.
Soft drinks are served in flights however its better to avoid any carbonated drinks
Soda Is Useless in general. It has greater impact while flying as our body is already under stress and there is lot of chemical imbalance which impacts our hormones. there are no nutritionally beneficial components in soft drinks.
Few other points to ponder specially if you are taking a long distance flight with different time zones.
BEFORE FLYING
Few precautions will make your journey pleasant !
Have a good relaxed sleep before the flight. Sleep helps repair our body and keeps us calm and free from anxiety.
Fill up antioxidants and vitamins in the days at least a week before your date of journey
Green Salads are must, decrease your in take of your caffeine.
Incorporate yoghurt and beetroot into your diet, which help to fill your gut with healthy bacteria.
avoid acidic foods, specially if you are planning long distance flights. acidic food will make your journey uncomfortable.
During the flight
Have sugar-free hydration drinks that have electrolytes in them as they help the water to be better absorbed by the body.
have a light breakfast or snack before boarding a plane, but never board hungry.
Say no to fizzy drinks on board, as they could make you sick thanks to their immunity-lowering acidity.
water is best. sip water slowly during your flight. it will keep you hydrated. Resist all soda based soft drinks
have long deep breaths during your journey it will keep you calm and maintains the oxygen levels in your body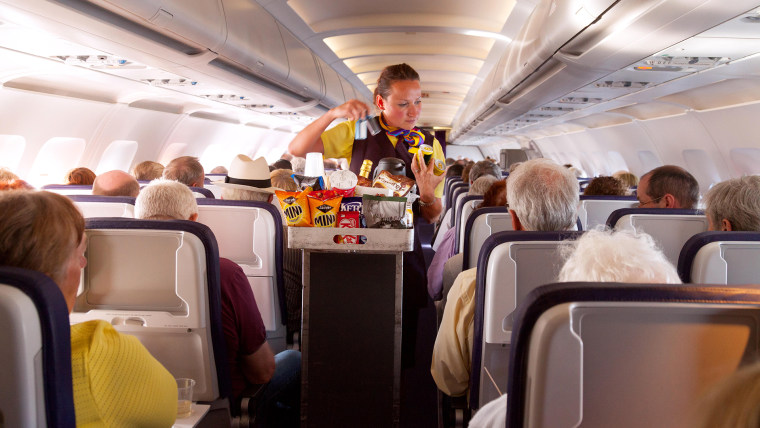 Softdrinks are bad for human body as they contains high amount of sugar and carbon which can lead to obesity and other health issues. During travel our mind and body are already in anxious state and these carbonated drinks can cause severe dehydration and increases the overall anxiousness.
Plain water is best while flying and needs to be consumed slowly sip by sip which can help keep your body and skin hydrated.
Dehydration will make travelers more vulnerable to motion sickness, jet lag and headaches and Soda can do more damage